Mason City Motor Speedway – EAST Championship
Friday, October 13, 2023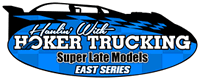 To Win:
To Start:
City: Mason City, IA
Phone: (641) 424-6515
Racing Starts:
Winner:
Friday, October 13th will be a qualifying night with time trials, heat races, and multiple features that will be $1,000 to-win and $200 to-start each.
The number of features will depend on car count for the Super Late Models. There will be no series points awarded for this night unless the main event rains out on Saturday to where each feature would then be awarded feature points.
If the Friday portion is to be rained out, Saturday would consist of a regular show.
Saturday's Purse is $3,000 to-win and $700 to-start. Saturday will consist of B-Features, Non-Qualifier race, and the A-Feature.
In the event that the West Series Championship is rained out, it will move to Friday, October 13th at Shelby County Speedway and the East Series will have a one day show for the Hoker Trucking East Series Championship on Saturday, October 14th at Mason City.