Meet the Malvern Bank Drivers – Nate Beyenhof

Meet some of our Malvern Bank Super Late Model Drivers
Nate Beyenhof
The Rock Rapids, Iowa native is a self-employed crop farmer. He also owns and operates a custom fertilizer application business, Fast Lane Applicators. Nate has been racing for ten years, starting in 2009. He ran one year in Late Model Street Stocks winning Rookie of the Year before switching to Late Models in 2010. In 2016 Nate ran some MBSLM races but concentrated on the WISSOTA Challenge Series. Racing highlights include a win at Deer Creek Speedway the final night they ran late models and winning qualifying night at the Wissota 100 in 2013.
The 51 is a 2012 MB Customs chassis built by Jimmy & Chris Mars, powered by Sput's Racing Engines. Car owners are Brad & Trudy Beyenhof.
Sponsorship support comes from: Four Seasons Companies, Fastert Trucking, Todd's Beer Cave, LVO Mfg., Beyenhof Estates, Ritter, Town & Country Disposal, Heitritter Graphix, Little J Trucking, SF Regional Livestock, Waste Connections of Nebraska & McCarty Seed Co.
Nate will be racing the MBSLM series as well as some WISSOTA and Tri-State Late Model races. His goal this year is to have fun and win some races. He is happy to see the MBSLM series returning to his hometown track in Rock Rapids again this year.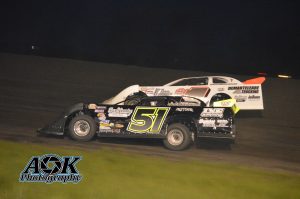 Like brother Nick, Nate shares not only their love of racing, but has a passion for backcountry snowmobiling in the mountains.