Malvern Bank Series to open 2018 season at I-80 on April 6/7

Malvern Bank Series to open 2018 season at I-80 Speedway on April 6/7
The Malvern Bank Super Late Model Series will kick off it's eleventh season on April 6 & 7 at the I-80 Speedway near Greenwood, Nebraska. The two-day event will have feature events both nights, but only Saturday's feature will count toward the series point championship. On Friday, April 6 following heat races, the field will be split in half and twin features each paying $1,000 to win. Then on Saturday, April 7 the feature will pay $3,000 to win.
The series then takes a month off before heading to the Crawford County Speedway on Friday, May 4 and then heads up to the Park Jefferson International Speedway north of Sioux City, Iowa on Saturday, May 5.
The series will follow that with the annual three day swing over Memorial Day weekend. That swing kicks off on Friday, May 25 at the Rapid Speedway in Rock Rapids, Iowa, then moves to the Off Road Speedway in Norfolk on Saturday, May 26 and then finishes up on Sunday, May 27 at Raceway Park north of Sioux City.
During the rest of the season the series will return three times to I-80 Speedway and host three events at the Junction Motor Speedway, two at the Adams County Speedway, makes it's first appearance at the Shelby County Speedway in Harlan, Iowa since 2013, returns to the Lakeside Speedway near Kansas City, Kansas as well as the Eagle Cup at Eagle Raceway.
A new event for the series in 2018 will be "a by invitation only event" held at the Knoxville Raceway on Saturday, September 16 in support of the Lucas Oil Late Model Nationals.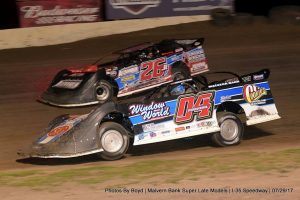 Tad Pospisil of Norfolk is the defending series champion.