Thanks to all who supported the series in 2017

Thanks to all who participated in the 2017 Malvern Bank Super Late Model Season
Thanks to all who participated in the 2017 Malvern Bank Super Late Model season. This includes, drivers, crew, officials, fans and especially sponsors. The series has had a great ten year run and we certainly could not have done it without all your participation, help and support.
Congratulations to Tad Pospisil and his team on winning the 2017 series championship. Thanks to all the teams that supported us, especially the 16 teams that made every series race, we had 95 different drivers compete in the series and for the 17 races we completed we averaged almost 31 cars per event, a very impressive number in 2017.
Special thanks goes out to our series sponsors listed below, and also to those who stepped up and added money to several of our races in 2017.
We are already in the planning stages for the 2018 series season and hope to have a tentative schedule out later this year.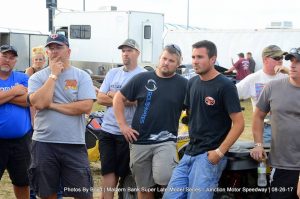 2017 series sponsors included: the Malvern Bank, Beyea Custom Headers, Dynamic Drivelines, Helmet Head Design, Home Pride Companies, Hooker Harness, Hoosier Racing Tires, Keiser Wheels, Keyser Manufacturing, Penske Shocks, Performance Bodies, Real Wheels, Roth Racing, Sardeson Racing, Speedway Motors, Swartz Xtreme Race Cars, VP Racing Fuels-Heartland, and Zeitner & Sons, Inc.